RSAF to fly F-16 fighter jets for 'at least' another decade, following F-35 developments 'closely': Air force chief

February 14, 2022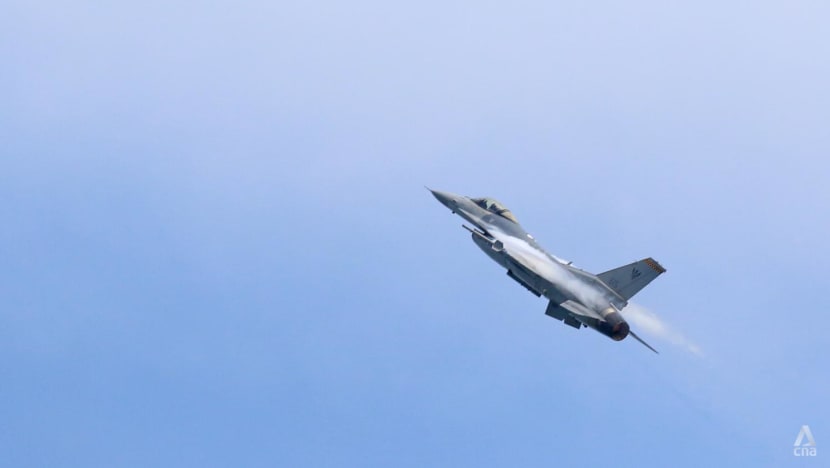 A Republic of Singapore Air Force F-16C executes an aerial manoeuvre at the Singapore Airshow 2022. (Photo: CNA/Aqil Haziq Mahmud)
SINGAPORE: The Republic of Singapore Air Force (RSAF) will continue flying its F-16C/D fighter jets for "at least another decade", Chief of Air Force Major-General (MG) Kelvin Khong said on Monday (Feb 14), adding that the RSAF has been following the developments of F-35 stealth fighter jets "closely".
Singapore announced in 2019 that it will buy four F-35B fighter jets for complete testing with the option for eight more. The plan is for the F-35s to replace the RSAF's ageing F-16s, which face obsolescence globally beyond 2030.
"We will continue to operate these (F-16) fighter aircraft for at least another decade and are working towards replacing the F-16s at the end of their operational life," MG Khong said in written responses to questions posed in conjunction with this year's Singapore Airshow.
MG Khong said the RSAF's fleet of F-16C/Ds is being upgraded in phases, and it has started taking delivery of the upgraded F-16s in June 2021.
"Subsequent deliveries will be rolled out progressively to ensure that the RSAF continues to have a capable fleet of fighter aircraft to meet our defence requirements," he said.
The F-16 upgrades started in 2016, the Ministry of Defence (MINDEF) said in a fact sheet previously, and was expected to take place over five or six years.
The upgrades include a new Active Electronically Scanned Array Radar to allow the F-16 to track and engage multiple targets from farther away, as well as an all-weather, ground-attack capability that enables it to strike targets with more capable precision munitions.
Modern advanced air-to-air weapons will equip the aircraft with the capability to engage a wide spectrum of air threats within visual ranges, while a datalink capability and advanced helmet mounted display will provide the pilot with greater situational awareness.
In 2019, Defence Minister Ng Eng Hen pointed out that the F-16s, in service since 1998, would have to retire soon after 2030 even after their mid-life upgrades. This was when MINDEF announced it had identified the F-35 as the most suitable replacement for the F-16s.
MG Khong said on Monday that RSAF's four F-35Bs, projected to be delivered around 2026, will be deployed in the continental US for training and evaluation.
The jets' advanced capabilities, including its short take off and vertical landing capability, will be tested, and the integration requirements with the rest of the Singapore Armed Forces' "warfighting systems" will also be determined, he said.
"We have stringent and rigorous evaluation processes in place and have been following the developments of the F-35 closely," he added.
"We will ensure that the F-35Bs meet our requirements before inducting them for operations."
A US Marine Corps F-35B kicks up water as it prepares to hover at the Singapore Airshow 2022. (Photo: CNA/Aqil Haziq Mahmud)
On Jan 24, a US Navy F-35C, a variant made for carrier operations, crash landed on the aircraft carrier USS Carl Vinson and fell into the sea during routine operations.
This was the third time an F-35 has entered the sea, after a British F-35B crashed on take off from the deck of its aircraft carrier HMS Queen Elizabeth into the Mediterranean Sea last November, and a Japanese F-35A crashed into the Pacific Ocean in 2019.
On Feb 11, Finland became the latest country to formalise its decision to buy the F-35s. The Finnish Air Force will get 64 F-35As, a weapons and sustainment package, as well as a comprehensive training program, the jet's manufacturer Lockheed Martin said.
MINDEF said last June that the Ebbing Air National Guard Base in Fort Smith, Arkansas has been selected as the preferred location for RSAF's F-35B fighter training detachment. RSAF's F-16 fighter training detachment at Luke Air Force Base in Arizona would also be relocated to the Ebbing base.
MG Khong said on Monday that the final decision is pending the US Department of the Air Force's conduct of an environmental impact assessment on whether the Ebbing base can support RSAF's requirements.
Co-locating RSAF's F-35Bs and F-16 aircraft will maximise opportunities for integrated training between its fourth- and fifth-generation fighter aircraft, and enable joint training and exchanges with the US Air Force and US Marine Corps F-35s, MG Khong said.
MG Khong also revealed that Selfridge Air National Guard Base at Harrison Township, Michigan, has been established as an alternate location.
"We will continue to work closely with relevant agencies on the basing and will provide more information in due time," he added.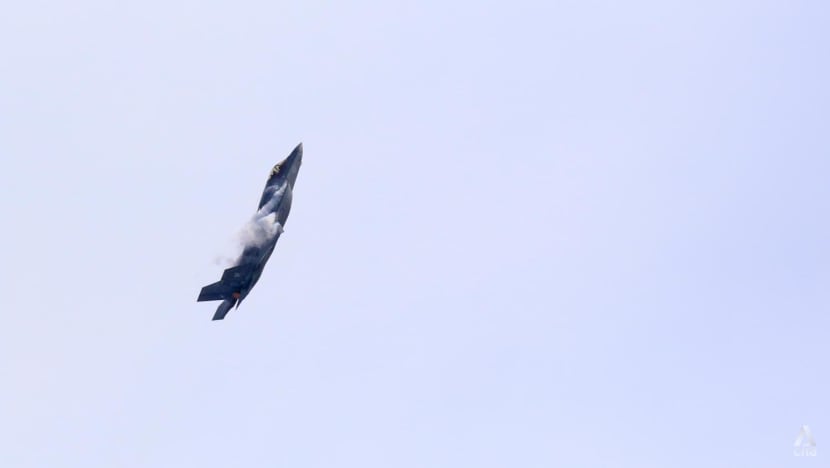 A US Marine Corps F-35B pulling up during an aerial display at the Singapore Airshow 2022. (Photo: CNA/Aqil Haziq Mahmud)
On the RSAF's other fighter jet the F-15SG, MG Khong said the force will continue to review its capabilities and evaluate the need for an upgrade to ensure the jet's operational relevance and effectiveness.
In January, the US announced a US$471.3 million contract for Boeing to help Japan upgrade its F-15 fleet, enabling it to fight effectively alongside the nation's growing fleet of F-35s, Military Aerospace reported.
Boeing, which produces the F-15, will develop an integrated suite of aircraft systems to support the modification of Japan's F-15 weapon system trainers.
MG Khong said RSAF's F-15SG plays a "critical role in Singapore's multi-layered air defence system".
"These fighter jets have served us well since we first took delivery in 2009 and remains a crucial component of our fighter fleet in the next-generation SAF," he said.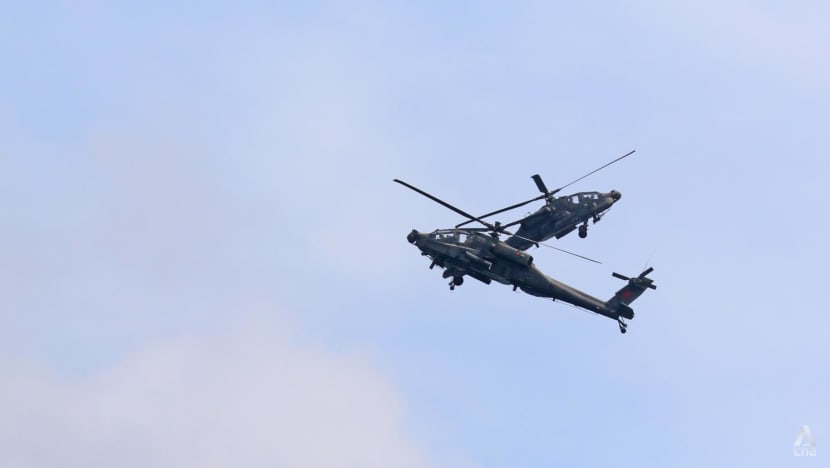 A pair of RSAF Apache AH-64D attack helicopters perform at the Singapore Airshow 2022. (Photo: CNA/Aqil Haziq Mahmud)
RSAF will also continue operating its Apache AH-64D attack helicopters, he said, although he highlighted that the force will upgrade or acquire new systems if required to ensure it remains operationally capable and effective.
"Since we acquired the AH-64D Apache Helicopters in 1999, it has proven to be a versatile helicopter that can carry out a wide variety of missions both day and night, against land, sea and air threats in all weather conditions," he added.
DRONE THREATS
The Chief of Air Force said he expects future air combat to evolve, considering that the security landscape continues to be complex and challenging, with a wide spectrum of conventional and unconventional threats.
RSAF continues to study potential new concepts, including manned-unmanned teaming involving unmanned aerial vehicles, he said, adding that more information on RSAF's UAV renewal plan will be provided when ready.
To deal with drone attacks, the RSAF has improved its early warning capability with sensors like the Multi-Mission Radar to detect medium and long-range weaponised drones, MG Khong said.
He said such drone threats can be neutralised by Singapore's Island Air Defence (IAD) system, which provides a real-time comprehensive air situation picture using artificial intelligence and data analytics to organise and fuse data from multiple sources.
The IAD system has been integrated with anti-drone platforms such as the Surface-to-Air PYthon-5 and DERby-Air Defence System and Aster 30 missile system.
MG Khong said the RSAF will be developed in "dynamic and multi-faceted ways", with investment in conventional air combat capabilities and building capabilities to handle emerging threats
"I expect that air combat will not be limited to the traditional fights between large formations of aircraft, but instead be about how well an air force can seamlessly integrate traditional air combat capabilities with technology across multiple domains to create a force multiplier effect," he added.
Source: CNA/hz(mi)