FPDA countries say they want to give 50-year-old defence pact 'modern relevance'

June 11, 2022
Singapore, Malaysia, Australia, New Zealand and Britain make up the nations in the Five Power Defence Arrangements.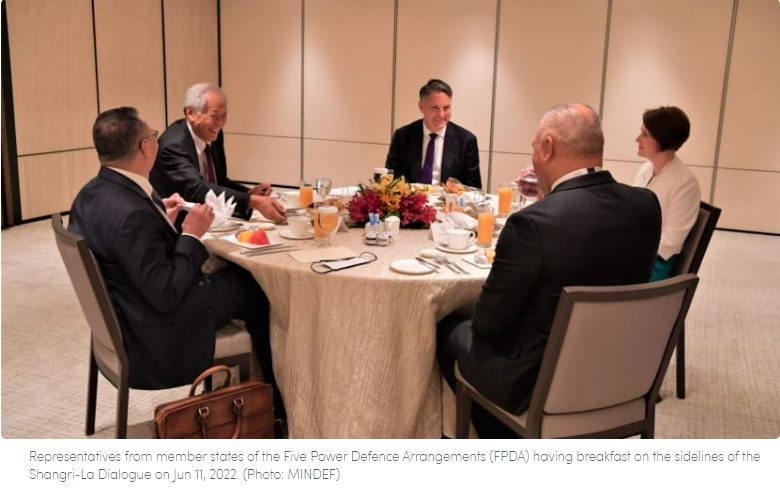 SINGAPORE: Member states of the Five Power Defence Arrangements (FPDA) said on Saturday (Jun 11) that they are committed to ensuring the 50-year-old defence pact has "modern relevance" in the face of complex security challenges.
The FPDA – formed in 1971 against the backdrop of armed conflict across Southeast Asia – comprises Singapore, Malaysia, Australia, New Zealand and Britain. Under the pact, member states must consult each other in case of an armed attack on Malaysia or Singapore.
The group celebrated its 50th anniversary last year, making it the world's second-oldest defence alliance behind the North Atlantic Treaty Organization (NATO).
On Saturday, Singapore's Defence Minister Ng Eng Hen hosted delegates from the member states to breakfast on the sidelines of the Shangri-La Dialogue. Australia's representative said the tone of the meeting was "one of a real sense of comfort among old friends".
"We're mindful of the need to give the FPDA a modern relevance, and we're really committed to doing that," Australia's Deputy Prime Minister and Minister for Defence Richard Marles told reporters.
"That we have such a good relationship in the context of a world where there are pretty complex strategic challenges is a huge asset for all of us."
Mr Marles said the group is looking at working together in areas like maritime security, counterterrorism, humanitarian missions as well as securing supply chains.
"All of these are fields in which we can work to give the FPDA a modern relevance, which we are really keen to do," he said.
"Because relationships such as we've got now between old friends, where there is a genuine war, is something that is really precious in the modern world."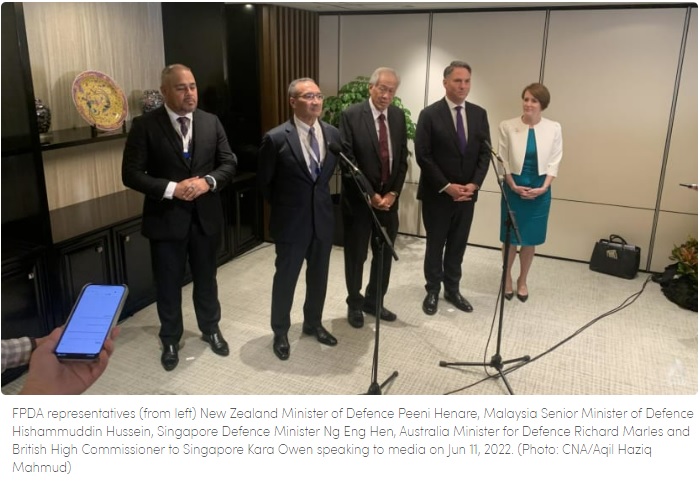 When asked how FPDA would maintain its relevance as some of its members join newer groupings like the Quad and AUKUS, Mr Marles again pointed to FPDA's 50 year-history.
"AUKUS and the Quad have their roles, and we're obviously committed to that architecture as well, but something which is as enduring as the FPDA is really precious to Australia," he said.
The Quad comprises Australia, India, Japan and the United States while AUKUS is a three-way security pact between Australia, the UK and the US.
Member states also share a "deep friendship" reflected by the way their armed forces participate in joint exercises, he added.
Dr Ng said the "big difference" with FPDA is that "we actually have a mature exercise", named Bersama Gold and Bersama Shield.
"It's a very large exercise; we have over 4,000 troops meeting very regularly, and jointness and interoperability are key aspects, so it's a very mature relationship," he said.
Singapore's Ministry of Defence (MINDEF) said in a statement on Saturday that FPDA member states expressed support to continually deepen the professional value of the group's exercises.
"The FPDA continues to play a useful role in promoting regional cooperation, and contributes constructively to the regional security architecture through the conduct of regular exercises, dialogues and platforms for professional interactions," it said.
The representatives also discussed the "important role" of the FPDA in building confidence and promoting a rules-based international order, the ministry added.
For instance, in the South China Sea, which has seen escalating tensions between China and countries in the region, the FPDA helps countries avoid "unintended accidents", said Malaysia's Senior Minister of Defence Hishammuddin Hussein.
"It is not a question of how many Chinese assets or US planes are flying across the South China Sea. My biggest concern is unintended accidents and incidents that may spiral out of control and make it bigger than what it is," he said.
Even if such incidents are beyond the control of platforms like FPDA or the Association of Southeast Asian Nations, countries could still use them to manage the incidents, Mr Hishammuddin said.
"Because sometimes when people realise that it is spiralling, that it is getting out of hand – this incident has somehow got everybody's imagination on board, egos get into the way, geopolitics or superpowers get into the way – what platforms do we go to to get some common sense back?" he asked.
"And I hope that these five countries that have created the FPDA after the Second World War, where the whole world had to face consequences, I think our forefathers were wise enough to realise that this could be a mechanism that could help us."
New Zealand's Minister of Defence Peeni Henare said the FPDA member states have an "unwavering" commitment to the group.
"(It's) also an opportunity to allow us to prioritise and regenerate our military and our cooperation collectively, as we seek towards perhaps another 50 years and carving out a future legacy for us," he said.